Markets closed mixed this week as stocks experienced a period of lackluster trading. While the Dow and Nasdaq indexes eked out gains, the S&P 500 notched its first loss in five weeks, driven lower by some earnings misses. For the week, the S&P 500 lost 0.03%, the Dow gained 0.1%, and the Nasdaq gained 0.71%.[1] 
Markets have had a good run near historic highs, so it's not surprising to endure a slow week halfway through earnings season. Thus far, more than 50% of S&P 500 companies have reported in, with 68% beating earnings expectations, above the historical rate of 63%, and 56% topping revenue estimates. If remaining earnings reports are in line with estimates, earnings will be up 4.1% from second quarter 2012; one year ago.[2] Overall, revenue growth seems to be below historical trends as businesses continue to struggle with weak global demand. 
On the economic front, consumer confidence soared to its highest level in six years, which could point towards higher consumer spending during the important back-to-school retail season.[3] Jobless claims rose last week, largely due to factoring retooling and seasonal variations, but it appears that the labor market is stable, if not gaining momentum. On the positive side, several automakers have altered their annual shutdown schedule in response to increased vehicle demand, so we will hopefully see a few more factory jobs show up in next month's data.[4]
Looking ahead, analysts will be closely monitoring the economic data released this week, which includes reports on consumer confidence, GDP, as well as the July Fed FOMC meeting announcement. Economists don't expect much to change at the FOMC meeting, but analysts will still pore over every word of the announcement for insight into future Fed moves.
As always, in times good or bad, exciting or dull, we are ever watchful - always keeping an eye on the assets you have entrusted to our care. Thank you for giving us the opportunity to provide you with financial guidance. We hope you have a great week!
 
ECONOMIC CALENDAR:
Monday: Pending Home Sales Index, Dallas Fed Mfg. Survey
Tuesday: S&P Case-Shiller HPI, Consumer Confidence
Wednesday: ADP Employment Report, GDP, Employment Cost Index, Chicago PMI, EIA Petroleum Status Report, FOMC Meeting Announcement
Thursday: Motor Vehicle Sales, Jobless Claims, PMI Manufacturing Index, ISM Mfg. Index, Construction Spending
Friday: Employment Situation, Personal Income and Outlays, Factory Orders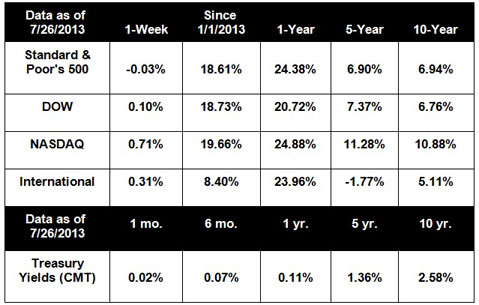 Notes: All index returns exclude reinvested dividends, and the 5-year and 10-year returns are annualized. Sources: Yahoo! Finance and Treasury.gov. International performance is represented by the MSCI EAFE Index.
Investing involves risk including the potential loss of principal. No investment strategy can guarantee a profit or protect against loss in periods of declining values.
Diversification does not guarantee profit nor is it guaranteed to protect assets

The Standard & Poor's 500 (S&P 500) is an unmanaged group of securities considered to be representative of the stock market in general.
The Dow Jones Industrial Average is a price-weighted average of 30 significant stocks traded on the New York Stock Exchange and the NASDAQ. The DJIA was invented by Charles Dow back in 1896.
The Nasdaq Composite is an index of the common stocks and similar securities listed on the NASDAQ stock market and is considered a broad indicator of the performance of stocks of technology companies and growth companies.
The MSCI EAFE Index was created by Morgan Stanley Capital International (MSCI) that serves as a benchmark of the performance in major international equity markets as represented by 21 major MSCI indexes from Europe, Australia and Southeast Asia.
The S&P/Case-Shiller Home Price Indices are the leading measures of U.S. residential real estate prices, tracking changes in the value of residential real estate. The index is made up of measures of real estate prices in 20 cities and weighted to produce the index.
The 10-year Treasury Note represents debt owed by the United States Treasury to the public. Since the U.S. Government is seen as a risk-free borrower, investors use the 10-year Treasury Note as a benchmark for the long-term bond market.
Google Finance is the source for any reference to the performance of an index between two specific periods.
Opinions expressed are subject to change without notice and are not intended as investment advice or to predict future performance.
Past performance does not guarantee future results.
You cannot invest directly in an index.
Consult your financial professional before making any investment decision.
Fixed income investments are subject to various risks including changes in interest rates, credit quality, inflation risk, market valuations, prepayments, corporate events, tax ramifications and other factors.
These are the views of Platinum Advisor Marketing Strategies, LLC, and not necessarily those of the named representative, Broker dealer or Investment Advisor, and should not be construed as investment advice. Neither the named representative nor the named Broker dealer or Investment Advisor gives tax or legal advice. All information is believed to be from reliable sources; however, we make no representation as to its completeness or accuracy. Please consult your financial advisor for further information.
By clicking on these links, you will leave our server, as they are located on another server. We have not independently verified the information available through this link. The link is provided to you as a matter of interest. Please click on the links below to leave and proceed to the selected site.
---
[1] http://briefing.com/investor/markets/weekly-wrap/weekly-wrap-for-july-22-2013.htm
[2] http://www.cnbc.com/id/100916804, http://articles.economictimes.indiatimes.com/2013-07-26/news/40815065_1_dow-chemical-sp-500-companies-standard-poor
[3] http://www.cnbc.com/id/100910587
[4] http://www.bloomberg.com/news/2013-07-25/jobless-claims-in-u-s-increased-by-7-000-to-343-000-last-week.html